RUME USA: Chicago Real Estate Investment Firm Success Story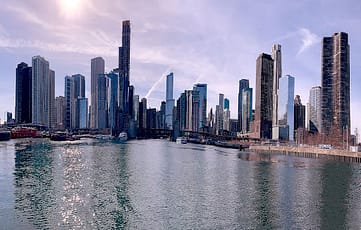 Nate Reichard, Chicago Co-Founder and Principal of real estate investment firm RUME USA identified as a unique opportunity in the real estate investing and development market: the need for a truly vertically-integrated firm that applies a process-oriented and entrepreneurial ethos to its investment and value-add processes.
RUME's decades of experience and proprietary value-creation strategies have fueled reliable and sustained investment growth. The RUME USA team's inherited entrepreneurial prowess and individual accomplishments help provide families and communities with the financial tools and resources needed to thrive in today's market.
Bringing all parts of RUME USA's business together under one roof, RUME has the distinct ability to collaborate and operate at the highest levels of excellence.
RUME's All-Under-One-Roof Approach
Our principals are seasoned industry professionals with nearly three decades of direct experience in acquisitions, asset management, capital raising, construction, property management, Real Estate brokerage, and mortgage banking.
With expertise across this broad array of real estate disciplines, RUME USA has the know-how with our internal resources and vertical integration that will provide direct oversight to affect change that we believe will improve property operating margin and consistent annual growth.
Vertically Integrated, Internally Managed
RUME USA's fully vertically-integrated business model addresses all aspects of a real estate investment, from capital raising and acquisition to asset and property management, all working in lockstep to promote a smooth and strategic exit.
RUME Acquisitions Management
This division focuses on broker relationships, analytics, and area fundamentals.
Disciplined management of our acquisition pipeline enables us to source strategic and unique opportunities.
Our continuous evaluation of ever-changing micro and macro real estate markets is informed by a sophisticated analytics platform.
Our informed, diligent underwriting stems from extensive nationwide broker relationships and a robust data analysis platform.
RUME Asset Management
This division helps the firm manage our real estate funds and provide timely, precise reporting to investors.
We offer best-in-class fund management resources to our valued investor community through our customized investor portal: RUME VIP.
We navigate complexities while attempting to mitigate risks and promote valuable, long-term improvements.
RUME Property Management
RUME manages all of its owned real estate properties.
We strive to use best-in-class digital property management systems.
We're dedicated to providing the most seamless and innovative leasing experience to tenants.
RUME Construction Management
RUME manages construction for all our projects.
We closely monitor progress on each step of the renovation.
Our improvement programs must adhere to strict timelines and budgets.
We have a truly unique method of renovating and rehabilitating strategic properties across the U.S.
RUME USA has carefully and methodically crafted our unique Entrepreneurial Real Estate Operating System. Everything is constructed intentionally, deliberately thinking about thoughtful, sustainable, and scalability for rapid growth.
About RUME USA, Chicago Real Estate Investment Firm
Headquartered in Chicago, led by Nate Reichard, RUME USA is a Chicago real estate investment firm with a proven record of success in its income and growth strategies. Founded in 2010, RUME's founding principals, with six decades of collective experience, have a wide breadth of diverse real estate investments, driving the bottom line for investor assets and creating lasting value for the long term. Contact RUME USA online at www.rumeusa.com, call 630-381-0400, or email invest@rumeusa.com.