Why You Should Invest in RUME USA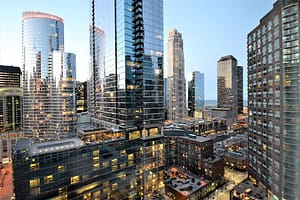 There are many different ways to create wealth, but real estate investment is one of the most popular and reliable options. At Chicago real estate investment firm RUME USA, we specialize in helping investors achieve success in the world of real estate investment through multifamily properties. We have a team of experienced professionals who know the process of managing a portfolio of multifamily properties.
According to CBRE, in its U.S. Real Estate Market Outlook 2022, the multifamily sector is forecast to have a record-breaking year this year of 223.18 billion, up from 212.55 in 2021, due in part to heightened investor interest. Another positive is that occupancy levels are forecast to be strong at +95%.
Why Invest in Multifamily Properties?
RUME USA specializes in multifamily properties because they're a good investment. For one, they offer attractive, risk-adjusted returns and relatively low volatility. Additionally, they offer a higher return on investment and are more resistant to market fluctuations.
RUME USA targets multifamily assets in strategic markets across the country. Our team has created a set of value enhancement strategies that we believe will result in reliable year-over-year net operating income while mitigating risks. We invest the proceeds in multifamily communities located in strategic metropolitan statistical areas that have been the most resilient asset classes in real estate.
RUME's vision is not limited to a single state or region – instead, we rely on a set of key performance indicators for neighborhoods across the country to identify investment candidates that are most likely to generate robust returns.
RUME USA's KPIs
RUME USA's key performance indicators include:
MSA population growth
Median housing value
Median household income
Employment
Affordability
Crime Index
Rent growth trends
Fortune 500 presence
Currently, RUME USA manages multifamily investment properties located in eight cities and five states, including Illinois, Georgia, Kentucky, and Ohio. RUME is looking at specific lucrative neighborhoods in Arizona, Texas, Florida, Wisconsin, and Indiana among other prime locations. RUME looks at employment growth drivers, population and income growth, and positive trending rent growth, among other factors.
Benefits of Investing in Real Estate
For most investors, the path to financial freedom starts with a solid investment strategy. And for many, that strategy includes investing in multifamily properties. Multifamily properties offer a number of advantages over other types of investments, including the potential for higher returns.
It's important to diversify your portfolio by investing in different markets. If you're looking for a reliable and profitable way to invest your money, utilizing a real estate investment firm to minimize your risk is a smart option.
Why You Should Invest with RUME USA
RUME USA is a real estate investment firm that specializes in generating income for investors through multifamily rental properties. We also have a team of experienced investment managers who can help you with every aspect of your real estate investment. We focus on multifamily properties because they offer the potential for high returns and are relatively low risk.
Learn How RUME Can Increase Your ROI. Contact Us Today.
Headquartered in Chicago, led by Nate Reichard, co-founder and principal, RUME USA is a vertically integrated real estate investment firm targeting multifamily assets in strategic markets throughout the country. RUME's founding principals, with six decades of collective experience, have a wide breadth of diverse real estate investment experience over their respective entrepreneurial journeys. Since RUME's inception in 2010, RUME's real estate investment principals have created a set of value creation strategies, CORR, that they believe to be reliable, profitable, and, most importantly, scalable while mitigating risk. Contact RUME USA online at www.rumeusa.com, call 630-381-0400, or email invest@rumeusa.com.