RUME Real Estate Investment Firm: Meet Our Strategic Leadership Team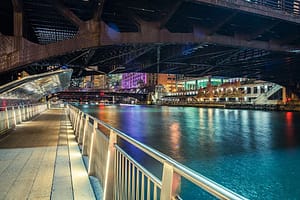 With 60+ years of collective team experience investing and managing, Chicago-based RUME USA was founded as a response to what our principals, led by Nathan (Nate) Reichard, Carl Schirtzinger, and Rose Tang, identified as a unique opportunity in the real estate investing and development market: the need for a truly vertically-integrated firm that applies a process-oriented and entrepreneurial ethos to its investment and value-add processes.
Leadership That Drives Chicago's Real Estate Investment & Management Assets
Meet Nathan Reichard, Principal and Partner
Nathan (Nate) Reichard is a founding Principal of Real Estate (PE) Investment Firm, RUME USA. He provides overall strategic direction and execution of Acquisitions and Dispositions for Multifamily communities across the United States. He founded RUME Capital in 2020, which is RUME's internal Capital Fund Management company. He also manages the company's internal insurance agency, (RUME Insurance Agency, LLC), which he founded and launched in 2017.
With experience in Mortgage banking, Insurance brokerage, Real Estate Investing and brokerage, Nate plays a central role in developing RUME's fully integrated approach to owning, repositioning and managing Real Estate across its Family of fully integrated companies (Property Management, Asset Management, Construction Management, Capital Fund Management, Acquisitions and its Insurance Agency).
A lifelong entrepreneur, Nate launched his career as an insurance producer before moving to mortgage banking and Real Estate Investing. In 2010, he founded Reichard Real Estate, LLC, an investment company focused on acquiring single-family, Multifamily and self-storage properties.
Later, Nate co-founded RUME Holdings, LLC and recently founded and launched Reichard Capital, a Family Office and wealth advisory firm to help leverage RUME Real Estate Funds to generate Income and Growth for families and investors. He also co-founded Reichard Foundation, which is the families' philanthropy entity.
Meet Carl Schirtzinger, Principal and Partner
Carl Schirtzinger is responsible for leading and integrating RUME Holding's diverse business development, property management and construction divisions. He maintains accountability for P&L and execution of the business plan, and as chief integrator he holds the leadership team accountable for all deliverables and results – and serves as the tie-breaker in those rare instances of contested decisions.
Since co-founding the company, Carl has provided the vision and strategic planning that have powered RUME's rapid, sustainable growth and commitment to excellence. Leveraging his engineering background as the catalyst, Carl has put in place a professional team that deploys state of the art technology to manage and monitor every aspect of RUME's business. He has also worked with industry leading technology providers to design and pilot new systems and technologies specific to the multifamily industry.
Meet Rose Tang, Principal and Partner
Dr. Rose Tang has direct oversight of all finance and accounting operations at RUME Holdings, LLC. Co-founder, principal and partner, she manages all assets in the company's extensive portfolio, and models full lifecycle analysis for every project RUME undertakes. Rose's deliberative approach merges a highly detailed, disciplined plan with precision execution to generate predictable results and accountability across all sectors of the enterprise.
With 30 years of corporate leadership, she brings exceptional management, interpersonal and analytical skills to RUME's leadership team. Rose's real estate investment experience began in 1997 and by 2010 she had become a sponsor and managing partner on multifamily real estate investments. Since 2012, Rose has been deeply involved in first mortgage, nonowner-occupied private lending. She co-founded Capital SMART, a successful Real Estate partnership that first brought together RUME's founding team, where she created value by her expertise in Asset Management.
Learn How RUME's Team Can Enhance Your Real Estate Assets
Headquartered in Chicago, led by Nate Reichard, RUME USA is a vertically integrated real estate investment firm with a proven record of success in its income and growth strategies. Founded in 2010, RUME's founding principals, with six decades of collective experience, have a wide breadth of diverse real estate investments, driving the bottom line for investor assets and creating lasting value for the long term. Contact RUME USA online at www.rumeusa.com, call 630-381-0400, or email invest@rumeusa.com.
About Nate Reichard
Nathan Reichard is a lifelong entrepreneur, based in Chicago. Nate launched his career as an insurance producer before moving to mortgage banking and Real Estate Investing. In 2010, he founded Reichard Real Estate, LLC, an investment company focused on acquiring single-family, Multifamily and self-storage properties. He later founded and launched the self-storage brand called Becubed Storage, an automated self-storage Real Estate model. He is also the founder of Reichard Capital.